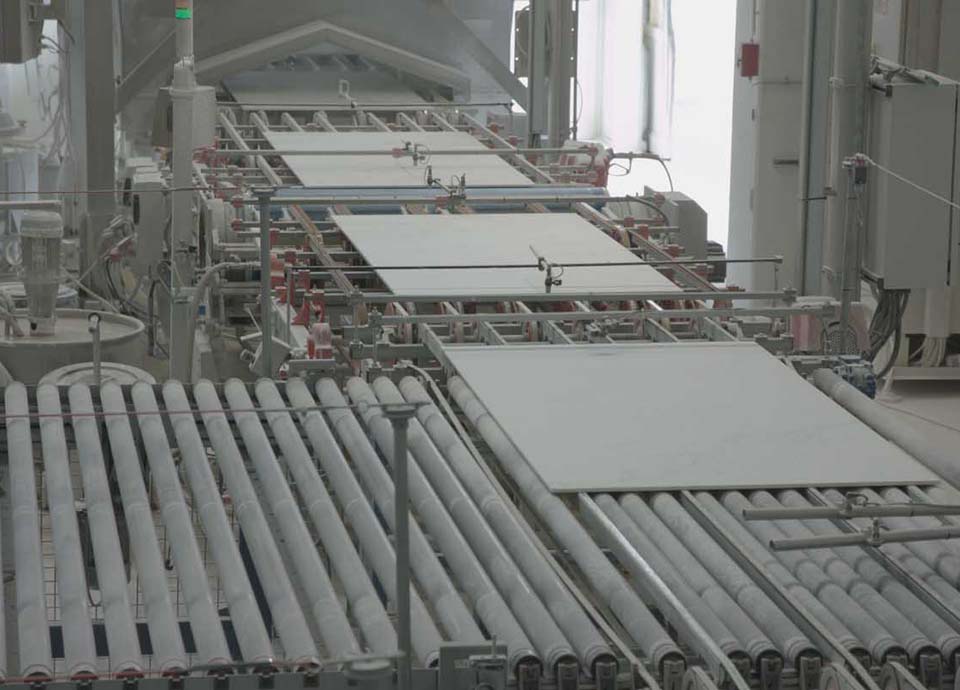 Production technology.
Our porcelain tile.
Porcelain stoneware tiles are produced with selected and particularly pure raw materials, subject to the latest extraction and control technologies. The resulting tiles are extremely high quality porcelain stoneware obtained through wet grinding the raw materials, partial drying with atomization and storage in silo to homogenise the specifications, pressing or compacting with high power hydraulic presses with specific pressures above 500 Kg/cm2. The considerable pressing force achieves, after firing at about 1200°C, an extremely compact and resistant tile with very low water absorption, lower than 0.1% (UNI EN ISO 10545-3) and a very high material strength to deep abrasion, less than 140 mm³ of material removed, compared to 175 mm³ required by Standard UNI EN ISO 10545-6. This is why our tiles are ideal for locations with high foot traffic. Its low porosity makes it frost-resistant and classified as Bla according to standard UNI EN 14411, due to a water absorption of less than 0.1%. The chemical resistance to acids and bases (UNI EN ISO 10545-13) makes it ideal for locations where aggressive products, such as chemical agents are used: i.e. hospitals, chemical and pharmaceutical industries and the food industry. Porcelain stoneware products are available in a large range of formats and finishes: natural, polished, lapped, patinated, structured and bush hammered.
Product guide.
Laying recommendations.
Porcelain stoneware can be laid on all supports that are usually used in the building industry, such as:
– concrete
– cement screed
– substrates with heating coils
– anhydrite screed
– cement and plaster based plasters
– existing flooring
– wood
– metal
The supports used for laying porcelain stoneware must be dry, stable, solid, mechanically resistant, perfectly level and free of removable parts (dust, grease, oil, wax, paint, braking agents and anything else that could compromise its adhesion). They must be suitable for loads and support the stresses for the specific use.
Cement screeds must be completely set and any underfloor heating system must have completed its testing cycle.
Floorings consisting of old tiles, marble-chip floor tiles or natural stone must be solid, well anchored and without any cracks. Any oil, wax, grease, etc. must be cleaned with a water and caustic soda solution or with another detergent already tested for such purposes, in order to thoroughly clean the surface in depth. Existing painting and lead sealing of the marble must be removed.
In all cases, regardless of the type of substrate, it is very important to ensure that the surface is level, to prevent the formation of vacuums under the tiles that could weaken the laying, with particular attention to raised sections and the presence of foreign rigid bodies. Lay the tiles by following the indications of the designer, site manager and the laying specifications.
Porcelain stoneware must be laid so that the adhesive ensures the perfect filling and adhesion over time, to prevent any deformation and guarantee the utmost reliability in all laying conditions.
Select the most suitable adhesive by following the indications of the adhesive manufacturer. As a rule we recommend adhesives that ensure a good type C2 wettability (improved cementitious adhesive).